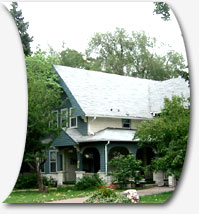 The very best service you can receive is from a real estate company that refuses to work for both parties in any transaction, even though Colorado sanctions this practice, calling it "Designated Brokerage". Attorneys don't do it – we believe that real estate brokers shouldn't either. Not if they truly have your interests at heart.
Almost any real estate broker can "act" as your buyer agent, but we're not acting. Buyer agency is our only business, because we believe that you deserve representation from an agent who is fully committed to promoting your interests 100% of the time, without compromise. We don't change hats.
We are able to make and keep these promises:
1. You'll have our complete loyalty – we only work for Buyers.
2. We'll keep what we know about you confidential.
3. You'll have access to the broadest inventory possible of homes including For Sale by Owner listings (FSBOs), Multiple Listings (MLS), Discount Listings, Expired Listings, Short Sales, and Foreclosures. We'll do mailings to search for sellers who may be just thinking of selling.
4. We'll analyze past sales to help you determine the real value of a property.
5. Everything we can discover will be disclosed to you.
6. We'll help you determine the best strategy and work hard to negotiate the best price and terms possible.
7. We'll be your advocate and guide you through all the necessary professional services for inspections, zoning, title work, loan approval and closing.
8. We'll do everything we can to ensure that all the service providers in your transaction (lenders, etc.) keep information confidential that has the potential to harm the leverage you need to negotiate successfully.
9. We'll work to make your transaction as hassle-free as possible. No surprises.
10. If you're relocating, we'll handle everything in your absence, and we'll keep you fully informed..
Again, we believe that your choice of what type of agent working under what type of agency is the single most important choice you'll make in the entire process. With buyers as our only clients, we have no other loyalties. Serving your needs and taking care of what is likely to be your largest single investment is not just a facet of our business - it's our only business.